Citation
Edit
National Institute of Standards and Technology, 2014 Computer Security Division Annual Report (NIST Special Publication 800-176) (Aug. 2015) (full-text).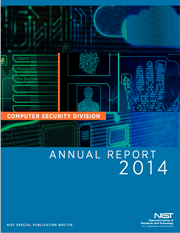 Overview
Edit
This annual report provides the important highlights and accomplishments of the work (projects/programs and publications released) that the NIST Computer Security Division has completed during FY 2014 (time frame covers October 1, 2013 to September 30, 2014).
Ad blocker interference detected!
Wikia is a free-to-use site that makes money from advertising. We have a modified experience for viewers using ad blockers

Wikia is not accessible if you've made further modifications. Remove the custom ad blocker rule(s) and the page will load as expected.