Citation
Edit
FTC Staff Report, Mobile Privacy Disclosures: Building Trust Through Transparency (Feb. 2013) (full-text).
Overview
Edit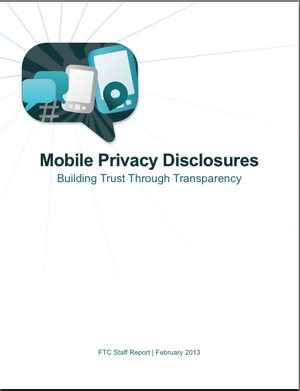 This staff report providing recommendations for best practices on mobile privacy disclosures. First, the report reviews the benefits and privacy risks of mobile technologies. Second, it discusses the FTC's efforts to address mobile privacy, as well as its research on disclosure issues generally. It then summarizes general themes raised by panel participants. Finally, it sets forth recommendations for best practices to key commercial players involved in the mobile arena — platforms,[1] app developers, third parties such as ad networks and analytics companies, and trade associations. The recommendations are intended to promote more effective privacy disclosures.
Privacy Challenges
Edit
Mobile technology presents unique privacy challenges. First, more than other types of technology, mobile devices are typically personal to an individual, almost always on, and with the user. This can facilitate unprecedented amounts of data collection. The data collected can reveal sensitive information, such as communications with contacts, search queries about health conditions, political interests, and other affiliations, as well as other highly personal information. This data also may be shared with third parties, for example, to send consumers behaviorally targeted advertisements.
Second, in the complicated mobile ecosystem, a single mobile device can facilitate data collection and sharing among many entities, including wireless providers, mobile operating system providers, handset manufacturers, application developers, analytics companies, and advertisers to a degree unprecedented in the desktop environment.
Third, mobile devices can reveal precise information about a user's location that could be used to build detailed profiles of consumer movements over time and in ways not anticipated by consumers. Indeed, companies can use a mobile device to collect data over time and "reveal[] the habits and patterns that mark the distinction between a day in the life and a way of life."[2] Even if a company does not intend to use data in this way, if the data falls in the wrong hands, the data can be misused and subject consumers to harms such as stalking or identity theft.
Finally, with many devices possessing screens of just a few inches, there are practical challenges in terms of how critical information — such as data collection, sharing of information, and use of geolocation data — is conveyed to consumers.
References
Edit
↑ In this report, the term "platform" refers to mobile operating systems, such as Apple's iOS, Google's Android, RIM's BlackBerry OS, and Microsoft's Windows Phone, along with the app stores they offer, such as the Apple App Store, Google Play, BlackBerry App World, and Microsoft's Windows Store.
Ad blocker interference detected!
Wikia is a free-to-use site that makes money from advertising. We have a modified experience for viewers using ad blockers

Wikia is not accessible if you've made further modifications. Remove the custom ad blocker rule(s) and the page will load as expected.