Overview
Edit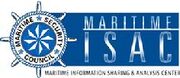 The Maritime Security ISAC represents ocean carriers, cruise lines, port facilities and terminals, logistics providers, importers, exporters and related maritime industries throughout the world. Its mission is to advance the security of the United States and the international maritime community by representing maritime interests before government bodies; acting as liaison between industry and government; disseminating timely information; encouraging and assisting in the development of industry-specific technologies; and convening educational and informational conferences for our membership and government partners.
Ad blocker interference detected!
Wikia is a free-to-use site that makes money from advertising. We have a modified experience for viewers using ad blockers

Wikia is not accessible if you've made further modifications. Remove the custom ad blocker rule(s) and the page will load as expected.