Citation
Edit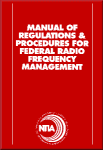 NTIA, Manual of Regulations and Procedures for Federal Radio Frequency Management (Redbook) (May 2011 rev.) (full-text).
Overview
Edit
This Manual is issued by the Assistant Secretary of Commerce for Communications and Information and is specifically designed to cover his/her frequency management responsibilities pursuant to delegated authority under Section 305 of the Communications Act of 1934, as amended. Its contents are based on the advice, as appropriate, of the Interdepartment Radio Advisory Committee.
Ad blocker interference detected!
Wikia is a free-to-use site that makes money from advertising. We have a modified experience for viewers using ad blockers

Wikia is not accessible if you've made further modifications. Remove the custom ad blocker rule(s) and the page will load as expected.