Citation
Edit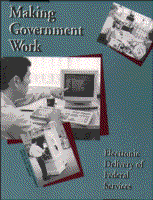 Office of Technology Assessment, Making Government Work: Electronic Delivery of Federal Services (OTA-TCT-578) (Sept. 1993) (full-text).
Overview
Edit
This report provided Congress with alternative strategies for improving the performance of government by using modern information technologies. The report offers new perspectives to Congress as it considers reauthorizing the Paperwork Reduction Act of 1995 and responds to the administration's "National Performance Review" and "National Information Infrastructure" initiatives. More broadly, the report contributed to the public debate over the role of information technology in reinventing government.
Ad blocker interference detected!
Wikia is a free-to-use site that makes money from advertising. We have a modified experience for viewers using ad blockers

Wikia is not accessible if you've made further modifications. Remove the custom ad blocker rule(s) and the page will load as expected.