Citation
Edit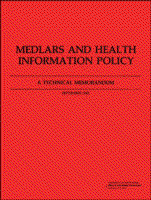 Office of Technology Assessment, MEDLARS and Health Information Policy (Sept. 1982) (full-text).
Overview
Edit
This technical memorandum analyzes the arguments for and against the National Library of Medicine's (NLM) creation and dissemination of health-related bibliographic information. It provides information designed to help Congress in decisions regarding the appropriate mix of NLM and private sector activities that might serve the public interest most efficiently.
A principal finding is that in most respects MEDLARS is an efficient system for disseminating health-related bibliographic information. In regard to the relationship of NLM and the private information sector, OTA's main findings are: (1) that there are insufficient empirical data to decide, on purely technical grounds, the most efficient and effective configuration of public and private bibliographic activities; and (2) that rapid developments in the computer and communications fields may, in the not too distant future, profoundly alter the effects of current decisions.
Ad blocker interference detected!
Wikia is a free-to-use site that makes money from advertising. We have a modified experience for viewers using ad blockers

Wikia is not accessible if you've made further modifications. Remove the custom ad blocker rule(s) and the page will load as expected.