Liberty and Security in a Changing World
Talk

0
Share
Ad blocker interference detected!
Wikia is a free-to-use site that makes money from advertising. We have a modified experience for viewers using ad blockers

Wikia is not accessible if you've made further modifications. Remove the custom ad blocker rule(s) and the page will load as expected.
Citation
Edit
President's Review Group on Intelligence and Communications Technologies, Liberty and Security in a Changing World (Dec. 12, 2013) (full-text).
Overview
Edit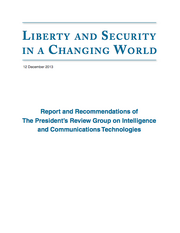 This Final Report contains 46 recommendations that are designed to protect U.S. national security and advance U.S. foreign policy while also respecting the country's longstanding commitment to privacy and civil liberties, recognizing our need to maintain the public trust (including the trust of U.S. friends and allies abroad), and reducing the risk of unauthorized disclosures.
The Report emphasizes the need to develop principles designed to create strong foundations for the future. The goal was to establish broad understandings and principles that can provide helpful orientation during the coming months, years, and decades.