Citation
Edit
National Criminal Justice Ass'n, Global Privacy and Information Quality Working Group, Justice Information Privacy Guideline: Developing, Drafting and Assessing Privacy Policy for Justice Information Systems (Sept. 2002) (full-text).
Overview
Edit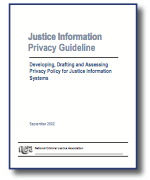 These privacy guidelines were developed by state, local, and tribal justice practitioners, the DOJ and associations representing justice organizations and practitioners. They provided some of the first-ever information and direction for justice agencies interested in protecting the privacy of the data they maintained — particularly as they began justice system integration — and in avoiding the negative consequences often associated with inadequate privacy considerations.
Ad blocker interference detected!
Wikia is a free-to-use site that makes money from advertising. We have a modified experience for viewers using ad blockers

Wikia is not accessible if you've made further modifications. Remove the custom ad blocker rule(s) and the page will load as expected.