Citation
Edit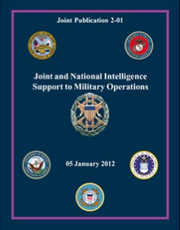 Joint Chiefs of Staff, Joint and National Intelligence Support to Military Operations (Joint Publication JP 2-01) (Jan. 5, 2012) (full-text).
Overview
Edit
This publication provides doctrine for joint and national intelligence products, services, and support to joint military operations. It describes the organization of joint intelligence forces and the national intelligence community, intelligence responsibilities, command relationships, and national intelligence support mechanisms. It provides information regarding the fundamentals of intelligence planning, execution, dissemination, and assessment and discusses how intelligence supports the full range of joint and multinational operations. It also describes Intelligence and Department of Defense networks.
Ad blocker interference detected!
Wikia is a free-to-use site that makes money from advertising. We have a modified experience for viewers using ad blockers

Wikia is not accessible if you've made further modifications. Remove the custom ad blocker rule(s) and the page will load as expected.