Citation
Edit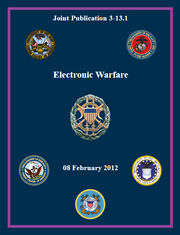 Joint Chiefs of Staff, Electronic Warfare (Joint Publication 3-13.1) (Feb. 8, 2012) (full-text).
Overview
Edit
This publication was prepared under the direction of the Chairman of the Joint Chiefs of Staff (CJCS). It sets forth joint doctrine to govern the activities and performance of the Armed Forces of the United States in joint operations and provides the doctrinal basis for interagency coordination and for U.S. military involvement in multinational operations.
It provides military guidance for the exercise of authority by combatant commanders and other joint force commanders (JFCs) and prescribes joint doctrine for operations, education, and training. It provides military guidance for use by the Armed Forces in preparing their appropriate plans. It is not the intent of this publication to restrict the authority of the JFC from organizing the force and executing the mission in a manner the JFC deems most appropriate to ensure unity of effort in the accomplishment of the overall objective.
Ad blocker interference detected!
Wikia is a free-to-use site that makes money from advertising. We have a modified experience for viewers using ad blockers

Wikia is not accessible if you've made further modifications. Remove the custom ad blocker rule(s) and the page will load as expected.