Citation
Edit
National Science Foundation & Library of Congress, It's About Time: Research Challenges in Digital Archiving and Long-Term Preservation (Aug. 2003) (full-text).
Overview
Edit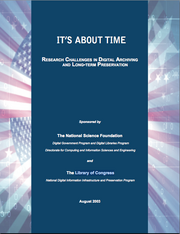 This report summarizes the discussions and recommendations of the Workshop a workshop that provides a research agenda to address key technological and computer and information sciences challenges in digital archiving and preservation.
Ad blocker interference detected!
Wikia is a free-to-use site that makes money from advertising. We have a modified experience for viewers using ad blockers

Wikia is not accessible if you've made further modifications. Remove the custom ad blocker rule(s) and the page will load as expected.