Citation
Edit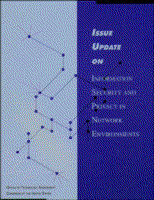 Office of Technology Assessment, Issue Update on Information Security and Privacy in Network Environments (OTA-BP-ITC-147) (Sept. 1995) (full-text).
Overview
Edit
This background paper was prepared as part of the Office of Technology Assessment's follow-on assistance to the Senate Committee on Governmental Affairs, subsequent to release of the September 1994 OTA report Information Security and Privacy in Network Environments. The Committee requested additional informational and analytical assistance from OTA in order to prepare for hearings and legislation in the 104th Congress.
This background paper updates and develops some key issues that OTA had identified in its earlier report, in light of recent developments in the private sector and in government. During the course of this work, OTA found that the need for timely attention to the security of unclassified information has intensified in the months since the 1994 report was issued.
Ad blocker interference detected!
Wikia is a free-to-use site that makes money from advertising. We have a modified experience for viewers using ad blockers

Wikia is not accessible if you've made further modifications. Remove the custom ad blocker rule(s) and the page will load as expected.