Citation
Edit
Federal Trade Commission, Internet of Things: Privacy and Security in a Connected World (Nov. 19, 2013) (Transcript).
Overview
Edit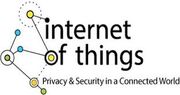 The Federal Trade Commission held a public workshop to explore consumer privacy and security issues posed by the growing connectivity of devices. The ability of everyday devices to communicate with each other and with people is becoming more prevalent and often is referred to as "The Internet of Things." Connected devices can communicate with consumers, transmit data back to companies, and compile data for third parties such as researchers, health care providers, or even other consumers, who can measure how their product usage compares with that of their neighbors.
The workshop focused on privacy and security issues related to increased connectivity for consumers, both in the home (including home automation, smart appliances and connected devices), and when consumers are on the move (including health and fitness devices, personal devices, and cars).
See also
Edit
Ad blocker interference detected!
Wikia is a free-to-use site that makes money from advertising. We have a modified experience for viewers using ad blockers

Wikia is not accessible if you've made further modifications. Remove the custom ad blocker rule(s) and the page will load as expected.