Citation
Edit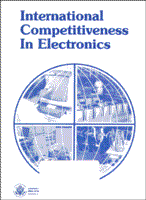 Office of Technology Assessment, International Competitiveness in Electronics (Nov. 1983) (full-text).
Overview
Edit
This assessment continues OTA's exploration of the meaning of industrial policy in the U.S. context, while also examining the industrial policies of several of our economic rivals. This assessment completes a series of three reports on the competitiveness of U.S. industries.
Ad blocker interference detected!
Wikia is a free-to-use site that makes money from advertising. We have a modified experience for viewers using ad blockers

Wikia is not accessible if you've made further modifications. Remove the custom ad blocker rule(s) and the page will load as expected.