Citation
Edit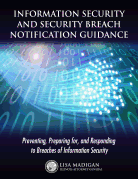 Illinois Attorney General, Information Security and Security Breach Notification Guidance (Jan. 27, 2012) (full-text).
Overview
Edit
This is a guide for Illinois businesses and government agencies to better protect consumers' personal information and help prevent identity theft. These guidelines set forth how businesses and government agencies must prevent, prepare for and respond to security breaches appropriately.
Ad blocker interference detected!
Wikia is a free-to-use site that makes money from advertising. We have a modified experience for viewers using ad blockers

Wikia is not accessible if you've made further modifications. Remove the custom ad blocker rule(s) and the page will load as expected.