Citation
Edit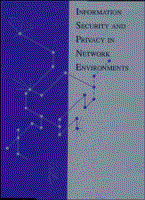 Office of Technology Assessment, Information Security and Privacy in Network Environments (OTA-TCT-606) (Sept. 1994) (full-text).
Overview
Edit
This report was prepared in response to a request by the Senate Committee on Governmental Affairs and the House Subcommittee on Telecommunications and Finance. The report focused on policy issues in three areas: 1) national cryptography policy, including federal information processing standards and export controls; 2) guidance on safeguarding unclassified information in federal agencies; and 3) legal issues and information security, including electronic commerce, privacy, and intellectual property.
Ad blocker interference detected!
Wikia is a free-to-use site that makes money from advertising. We have a modified experience for viewers using ad blockers

Wikia is not accessible if you've made further modifications. Remove the custom ad blocker rule(s) and the page will load as expected.