Citation
Edit
Global Privacy and Information Quality Working Group, Information Quality Self-Assessment Tool (Jan. 2010) (full-text).
Overview
Edit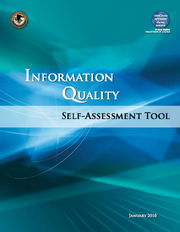 The purpose of this tool is to provide practitioners with guidance in evaluating the information quality of justice information reports associated with justice events by way of a self-administered worksheet, designed to provide practical, hands-on assistance to information systems personnel. Evaluating the quality of agency information is a mandatory step for any agencywide IQ program.
Ad blocker interference detected!
Wikia is a free-to-use site that makes money from advertising. We have a modified experience for viewers using ad blockers

Wikia is not accessible if you've made further modifications. Remove the custom ad blocker rule(s) and the page will load as expected.