Citation
Edit
Global Privacy and Information Quality Working Group (GPIQWG), Information Quality Program Guide (Jan. 1, 2010) (full-text).
Overview
Edit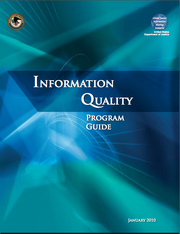 This Guide is intended to help justice managers develop an information quality program for their organizations and is designed to support managers who must analyze their justice entity's information and determine what is needed to ensure good quality information. In support of that effort, the Guide features a step approach to the development and implementation of an agencywide IQ program and includes a variety of resources and tools, as well as a framework for analyzing a justice entity's business rules for information quality.
Ad blocker interference detected!
Wikia is a free-to-use site that makes money from advertising. We have a modified experience for viewers using ad blockers

Wikia is not accessible if you've made further modifications. Remove the custom ad blocker rule(s) and the page will load as expected.