Citation
Edit
U.S. Sentencing Commission, Increased Penalties for Cyber Security Offenses (May 2003) (full-text).
Overview
Edit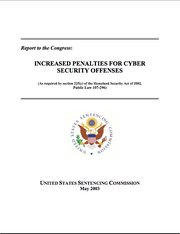 The Cyber Security Enhancement Act of 2002 (the "Act") directed the U.S. Sentencing Commission to review and amend guidelines and policy statements applicable to individuals convicted of offenses related to computer security.[1] This report to Congress reviews the guidelines applicable to computer crime and explains actions taken by the Commission in response to the Act.
References
Edit
↑

Section 225(c) of the Homeland Security Act of 2002.