Citation
Edit
Federal Trade Commission, Bureau of Economics, Staff Report, Improving Consumer Mortgage Disclosures: An Empirical Assessment of Current and Prototype Disclosure Forms (June 2007) (full-text).
Overview
Edit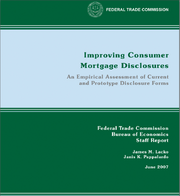 In 2007, the FTC staff studied the effectiveness of existing mortgage disclosures, and found that they failed to convey key mortgage costs to consumers. The staff developed and tested an alternative prototype notice, which was much more successful in conveying these costs. The prototype notice included the key costs in simple, easy-to-understand language, and excluded less important or confusing information. The form was layered in that it included summary information on the first page, and more detailed information on subsequent pages.
Ad blocker interference detected!
Wikia is a free-to-use site that makes money from advertising. We have a modified experience for viewers using ad blockers

Wikia is not accessible if you've made further modifications. Remove the custom ad blocker rule(s) and the page will load as expected.