Definition
Edit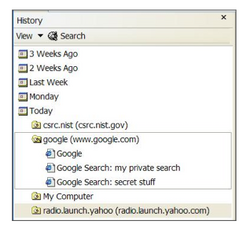 A history file is
Overview
Edit
"A history file records all the Web sites that were visited recently, generally in the last two or three weeks, and also records the individual Web pages accessed at each site.[2] "Erasing a history file does not simply clear the history listing; it also wipes out the list of recently visited Web sites typically shown from the Web browser's address bar."[3]
References
Edit
↑ National Research Council, Computer Science and Telecommunications Board, "Youth, Pornography, and the Internet," app. B (Dick Thornburgh & Herbert S. Lin eds. 2002).[1]
↑ NIST Special Publication 800-69, at 3-15.
↑ Id. at 3-16.
Ad blocker interference detected!
Wikia is a free-to-use site that makes money from advertising. We have a modified experience for viewers using ad blockers

Wikia is not accessible if you've made further modifications. Remove the custom ad blocker rule(s) and the page will load as expected.