Citation
Edit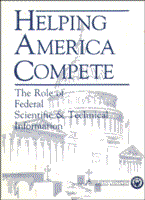 Office of Technology Assessment, Helping America Compete: The Role of Federal Scientific and Technical Information (OTA-CIT-454) (June 1990) (full-text).
Overview
Edit
]] This Special Report assesses how Federal scientific and technical information (STI) can contribute to a more competitive America and what actions are needed to realize this potential. The report was prepared in response to a request from the House Committee on Science, Space, and Technology.
Ad blocker interference detected!
Wikia is a free-to-use site that makes money from advertising. We have a modified experience for viewers using ad blockers

Wikia is not accessible if you've made further modifications. Remove the custom ad blocker rule(s) and the page will load as expected.