Citation
Edit
National Science and Technology Council, Interagency Working Group on Digital Data, Harnessing the Power of Digital Data for Science and Society: Report to the Committee on Science (Jan. 2009) (full-text).
Overview
Edit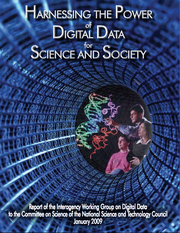 This report provides a strategy to promote preservation and access to digital scientific data. The report lays out a strategic vision for "a digital scientific data universe in which data creation, collection, documentation, analysis, preservation, and dissemination can be appropriately, reliably, and readily managed, thereby enhancing the return on our nation's research and development investment by ensuring that digital data realize their full potential as catalysts for progress in our global information society."
The report includes three key recommendations to pursue this vision. The first is to create an Interagency Subcommittee under NSTC that will focus on goals that are best addressed through continuing broad cooperation and coordination across agencies. The second key element of the strategic framework is for departments and agencies to lay the foundations for agency digital scientific data policy and make the policy publicly available. In laying these foundations, agencies should consider all components of a comprehensive policy to address the full data management life cycle. The third key element is for all agencies to promote a data management planning process for projects that generate scientific data for preservation.
Ad blocker interference detected!
Wikia is a free-to-use site that makes money from advertising. We have a modified experience for viewers using ad blockers

Wikia is not accessible if you've made further modifications. Remove the custom ad blocker rule(s) and the page will load as expected.