Citation
Edit
DHS Privacy Office, Handbook for Safeguarding Sensitive Personally Identifiable Information (Mar. 2012) (full-text).
Overview
Edit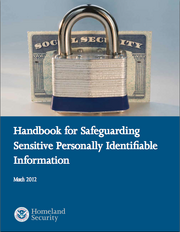 This Handbook provides minimum standards that apply to every DHS employee, contractor, detailee, intern and consultant. The Component Privacy Officer, Privacy Point of Contact (PPOC), Program Office, or System Owner may set additional or more specific rules for handling PII based on the sensitivity of the information involved.
This handbook explains:
Ad blocker interference detected!
Wikia is a free-to-use site that makes money from advertising. We have a modified experience for viewers using ad blockers

Wikia is not accessible if you've made further modifications. Remove the custom ad blocker rule(s) and the page will load as expected.