Citation
Edit
Global Privacy and Information Quality Working Group (GPIQWG), Guide to Conducting Privacy Impact Assessments for State, Local, and Tribal Justice Entities (Feb. 1, 2009) (full-text).
Overview
Edit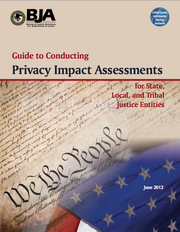 Practitioners are provided a framework with which to examine the privacy implications of their information systems and information sharing collaborations so they can design and implement privacy policies to address vulnerabilities identified through the assessment process. Privacy policies emerge as a result of the analysis performed during the Privacy Impact Assessment (PIA) process.
In addition to an overview of the PIA process, this guide contains a template that leads policy developers through a series of appropriate PIA questions that evaluate the process through which personally identifiable information is collected, stored, protected, shared, and managed. The PIA questions are designed to reflect the same policy concepts as those recommended in the Privacy, Civil Rights, and Civil Liberties Policy Development Guide for State, Local, and Tribal Justice Entities: Privacy Guide, further supporting privacy policy development.
Ad blocker interference detected!
Wikia is a free-to-use site that makes money from advertising. We have a modified experience for viewers using ad blockers

Wikia is not accessible if you've made further modifications. Remove the custom ad blocker rule(s) and the page will load as expected.