Citation
Edit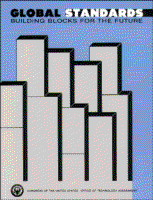 Office of Technology Assessment, Global Standards: Building Blocks for the Future (OTA-TCT-512) (Mar. 1992) (full-text).
Overview
Edit
This study considers the U.S. standards setting process in light of the changing economic and technological environment. Looking across industry sectors, the study compares the U.S. system with those of other countries, particularly the European Economic Community (EEC). Where remedies seem to be warranted, OTA suggests alternative strategies and options that the United States might pursue.
Ad blocker interference detected!
Wikia is a free-to-use site that makes money from advertising. We have a modified experience for viewers using ad blockers

Wikia is not accessible if you've made further modifications. Remove the custom ad blocker rule(s) and the page will load as expected.