Citation
Edit
Global Privacy and Information Quality Working Group (GPIQWG), Global Privacy Resources Booklet (Jan. 4, 2012) (full-text).
Overview
Edit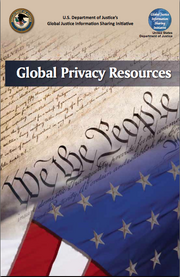 This booklet is a a roadmap for navigating through a variety of privacy awareness, policy development, and implementation products available to the justice community. The road map graphically illustrates the stages an agency naturally goes through when embarking on such an endeavor (such as education and awareness, self-assessment, policy development, technical implementation and training). Each of these stages, together, comprises a Privacy Program Cycle. The booklet graphically illustrates every stage of this cycle and guides agencies to the resources they need for each particular stage. Global recognizes that State, Local, and Tribal (SLT) justice entities come in all sizes, with a variety of roles and with varying degrees of available resources. The resources presented in the booklet are flexible and designed to meet a spectrum of privacy protection needs.
Ad blocker interference detected!
Wikia is a free-to-use site that makes money from advertising. We have a modified experience for viewers using ad blockers

Wikia is not accessible if you've made further modifications. Remove the custom ad blocker rule(s) and the page will load as expected.