Overview
Edit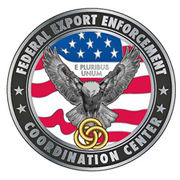 The U.S. Export Enforcement Coordination Center (E2C2) was created by Executive Order 13558. The E2C2, which became operational in March 2012, is intended to help federal agencies coordinate their export control enforcement efforts as well as share intelligence and law enforcement information related to these efforts. It is also intended to serve as a conduit between federal law enforcement agencies and the U.S. intelligence community. ICE manages and operates the E2C2.
Ad blocker interference detected!
Wikia is a free-to-use site that makes money from advertising. We have a modified experience for viewers using ad blockers

Wikia is not accessible if you've made further modifications. Remove the custom ad blocker rule(s) and the page will load as expected.