Citation
Edit
Federal Trade Commission, Enforceable Codes of Conduct: Protecting Consumers Across Borders (Nov. 29, 2012) (full-text).
Overview
Edit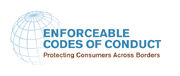 The Federal Trade Commission hosted a forum on using enforceable industry codes of conduct to protect consumers in cross-border commerce. Such systems, where government entities, businesses, consumer groups and other organizations develop and administer voluntary procedures that govern areas falling outside of traditional government oversight, are becoming increasingly important with the expansion of global commerce.
Ad blocker interference detected!
Wikia is a free-to-use site that makes money from advertising. We have a modified experience for viewers using ad blockers

Wikia is not accessible if you've made further modifications. Remove the custom ad blocker rule(s) and the page will load as expected.