Citation
Edit
Department of Homeland Security, Office of Inspector General, Efforts to Identify Critical Infrastructure Assets and Systems (OIG-09-86) (June 2009) (full-text).
Overview
Edit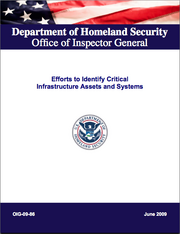 This report addresses Department of Homeland Security identification and use of critical infrastructure asset and systems data. It fulfills a statutory requirement from Section 1001 of the Implementing Recommendations of the 9/11 Commission Act of 2007 that requires the Office of Inspector General to review the Department of Homeland Security's (DHS) efforts to identify critical infrastructure.
Ad blocker interference detected!
Wikia is a free-to-use site that makes money from advertising. We have a modified experience for viewers using ad blockers

Wikia is not accessible if you've made further modifications. Remove the custom ad blocker rule(s) and the page will load as expected.