Citation
Edit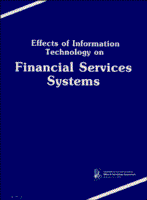 Office of Technology Assessment, Effects of Information Technology on Financial Services Systems (Sept. 1984) (full-text).
Overview
Edit
In 1982, the House Committee on Banking, Finance, and Urban Affairs; the House Committee on Energy and Commerce (expressing the special interest of its Subcommittee on Telecommunications, Consumer Protection, and Finance); and the Senate Committee on Banking, Housing, and Urban Affairs requested OTA to assess the impacts of information processing and telecommunication technologies on financial service systems. This report presents the results of that work.
Ad blocker interference detected!
Wikia is a free-to-use site that makes money from advertising. We have a modified experience for viewers using ad blockers

Wikia is not accessible if you've made further modifications. Remove the custom ad blocker rule(s) and the page will load as expected.