Citation
Edit
Department of Defense, DoD Information Enterprise Strategic Plan 2010-2012 (full-text).
Overview
Edit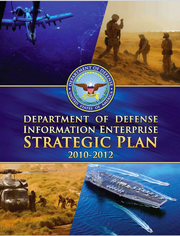 The DoD Information Enterprise, which enables a new, net-centric way of working, is constructed from the information itself, as well as a set of standards, services and procedures that enable information to be widely available to authorized users. The delivered set of services and tools will provide information and capabilities that enable end-user communities to more effectively and efficiently support mission operations. Finally, the DoD Information Enterprise includes the networks over which information travels and the security protocols that protect it.
The DoD IE Strategic Plan forms the basis for a broad approach to achieving the DoD Information Enterprise, which is collectively termed the DoD IE Strategic Plan & Roadmap (IE SP&R). Together, the Strategic Plan and Roadmap meet the requirements of the Government Performance Results Act, as described in Office of Management and Budget (OMB) Circular A-11. Over time, the DoD IE SP&R will deliver the DoD Information Enterprise envisioned by the National Defense Strategy, the National Military Strategy, the Quadrennial Defense Review, and the Department's Global Information Grid (GIG) 2.0 Concept of Operations (CONOPS) and Implementation Plan. Additional guidance is provided by the principles, rules, constraints, and best practices contained in DoD Information Enterprise Architecture v1.1 (DoD IEA).
The DoD IE SP&R establishes goals and associated objectives that form the basis for a plan to guide the transformation of DoD from a stove-piped information approach to achieving the Department's net-centric information sharing vision. The DoD IE SP&R fosters alignment of the Department's net-centric information sharing efforts, particularly those specified in the GIG 2.0 Implementation Plan, by identifying, relating and measuring the development and implementation of specific net-centric information sharing policies, programs, and initiatives.
The Roadmap portion of the DoD IE SP&R establishes a baseline for measuring the Department's performance in achieving the goals and objectives of the DoD IE Strategic Plan. The DoD IE SP&R also highlights how organizations are leveraging net-centric information sharing capabilities to improve the effectiveness and efficiency of processes across the Department. Strategic planning is one of five levers (policy, planning, governance, performance measurement, and portfolio management) used by the ASD(NII)/ DoD CIO to understand and influence what DoD is doing to improve information sharing. The wiki approach provides an opportunity to gain synergy across these levers through the power of collaboration.
Ad blocker interference detected!
Wikia is a free-to-use site that makes money from advertising. We have a modified experience for viewers using ad blockers

Wikia is not accessible if you've made further modifications. Remove the custom ad blocker rule(s) and the page will load as expected.