Citation
Edit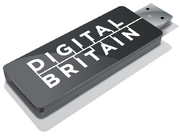 U.K. Department for Culture, Media and Sport & Department for Business, Innovation and Skills, Digital Britain Final Report (June 2009) (full-text).
Background
Edit
"In October 2008, after a decade during which some felt that the UK government had failed to respond promptly and in a coordinated fashion to the advent of online trading, websites, 3G networks, broadband, etc., the government launched an initiative called Digital Britain. The aim of Digital Britain was to survey and analyse the current state of the UK's digital communication infrastructure and economy, and to ascertain what the UK needed to do in order to retain a competitive edge in those areas. This initiative culminated in the 'Digital Britain Final Report,' which was published in June 2009."[1]
Overview
Edit
Digital Britain outlined the U.K. Government's strategic vision for ensuring that the United Kingdom is at the leading edge of the global digital economy. The report contains actions and recommendations to ensure first rate digital and communications infrastructure to promote and protect talent and innovation in its creative industries, to modernize TV and radio frameworks, and support local news, and it introduces policies to maximize the social and economic benefits from digital technologies.
References
Edit
↑ Chris Coulter, Masayuki Negishi & Elizabeth Foskett, "UK steps towards 'Digital Britain' with the introduction of the Digital Economy Act 2010" (Apr. 20, 2010) (full-text).
Ad blocker interference detected!
Wikia is a free-to-use site that makes money from advertising. We have a modified experience for viewers using ad blockers

Wikia is not accessible if you've made further modifications. Remove the custom ad blocker rule(s) and the page will load as expected.