Overview
Edit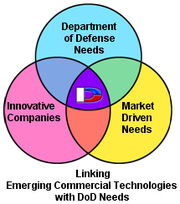 The Defense Venture Catalyst Initiative (DeVenCI) focuses on increasing Department of Defense (DoD) awareness of emerging commercial technologies developed by non-traditional DoD suppliers, and providing insight on DoD needs and requirements to these potential new suppliers.
Interactive participation between the venture capital community, small innovative companies, and potential DoD customers is a proven method to accelerate identification and adoption of emerging commercial technologies to meet DoD needs. The DeVenCI model is to broker interactions that facilitate transfer of knowledge and improved understanding between DoD participants with specific capability needs and small innovative companies.
Ad blocker interference detected!
Wikia is a free-to-use site that makes money from advertising. We have a modified experience for viewers using ad blockers

Wikia is not accessible if you've made further modifications. Remove the custom ad blocker rule(s) and the page will load as expected.