Overview
Edit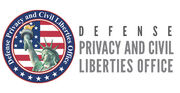 The Defense Privacy and Civil Liberties Office (DPCLO) implements the Department of Defense's Privacy and Civil Liberties programs through advice, monitoring, official reporting, and training. The DPCLO is responsible for implementation of the Department of Defense (DoD) Privacy Program.
The Program is based on the Privacy Act of 1974, as amended (5 U.S.C. §552a), as implemented by the Office of Management and Budget (OMB) (OMB Circular No. A-130) and DoD regulatory authority (DoD Directive 5400.11 and DoD Directive 5400.11-R), and is intended to provide a comprehensive framework regulating how and when the Department collects, maintains, uses, or disseminates personal information on individuals. The purpose of the Program is to balance the information requirements and needs of the Department with the privacy interests and concerns of the individual.
In discharging this assigned responsibility, the DPCLO performs multiple functions, to include:
Ad blocker interference detected!
Wikia is a free-to-use site that makes money from advertising. We have a modified experience for viewers using ad blockers

Wikia is not accessible if you've made further modifications. Remove the custom ad blocker rule(s) and the page will load as expected.