Citation
Edit
California Department of Justice, Data Breach Report 2012 (full-text).
Overview
Edit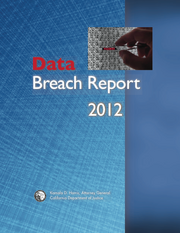 In 2012, for the first time, those subject to the California law on data breach notification, were required to provide copies of their notices to the Attorney General when the breach involved more than 500 Californians. The AG received reports of 131 breaches in 2012. They have reviewed the information submitted in order to gain an understanding of the types of breaches that are occurring, what vulnerabilities they may reveal, and what actions might be taken to prevent or reduce the likelihood of future breaches.
In this report, the AG describes what it saw and offers some recommendations based on its findings.
Ad blocker interference detected!
Wikia is a free-to-use site that makes money from advertising. We have a modified experience for viewers using ad blockers

Wikia is not accessible if you've made further modifications. Remove the custom ad blocker rule(s) and the page will load as expected.