Citation
Edit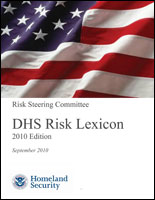 Department of Homeland Security, Risk Steering Committee, DHS Risk Lexicon (Sept. 2010) (full-text).
Overview
Edit
The DHS Risk Lexicon makes available a common, unambiguous set of official terms and definitions to ease and improve the communication of risk-related issues for DHS and its partners. It facilitates the clear exchange of structured and unstructured data that is essential to the exchange of ideas and information amongst risk practitioners by fostering consistency and uniformity in the usage of risk-related terminology for the Department.
Ad blocker interference detected!
Wikia is a free-to-use site that makes money from advertising. We have a modified experience for viewers using ad blockers

Wikia is not accessible if you've made further modifications. Remove the custom ad blocker rule(s) and the page will load as expected.