Citation
Edit
Department of Homeland Security Privacy Office Guide to Implementing Privacy (Ver. 1) (June 2010) (full-text).
Overview
Edit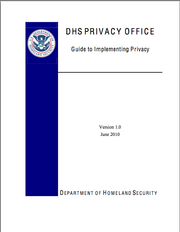 The purpose of this Guide is to inform DHS, other federal agencies, and the public about how the DHS Privacy Office implements privacy at DHS. The Guide provides an overview of the DHS Privacy Office's functions and transparency into its day-to-day operations.
Ad blocker interference detected!
Wikia is a free-to-use site that makes money from advertising. We have a modified experience for viewers using ad blockers

Wikia is not accessible if you've made further modifications. Remove the custom ad blocker rule(s) and the page will load as expected.