Citation
Edit
Department of Homeland Security, DHS Information Sharing and Safeguarding Strategy (Jan. 2013) (full-text).
Overview
Edit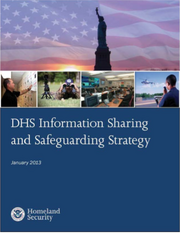 The vision and mission sections of the Strategy present a compelling picture that DHS can strive for in the future and provide the purpose of sharing and safeguarding across the HSE in the coming years, respectively. The next sections provide our five capstones — necessary underpinnings to achieve the vision and mission — as well as four long-term outcomes in the form of goals that help DHS achieve its mission. Each goal has related objectives and objective elements that identify specific, broad-based outcomes that DHS is to achieve. These outcomes also provide the necessary guidance for the prescribed implementation plan that shall be developed within 90 days of issuance.
The Strategy demonstrates that DHS has reached a level of maturity where performance measures must be developed to demonstrate the results that sharing and safeguarding efforts have achieved. Our success in gauging our performance will both allow us to make decisions that are more informed during implementation and be the ultimate indicator of effective and efficient mission enablement.
Ad blocker interference detected!
Wikia is a free-to-use site that makes money from advertising. We have a modified experience for viewers using ad blockers

Wikia is not accessible if you've made further modifications. Remove the custom ad blocker rule(s) and the page will load as expected.