Citation
Edit
Department of Homeland Security, DHS Information Sharing and Safeguard Strategy (Jan 2013) (full-text).
Overview
Edit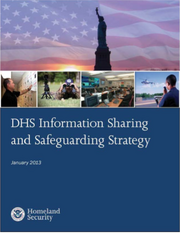 This Strategy marks the beginning for DHS to lead the Homeland Security Enterprise, redoubling our efforts across all the Components and Offices to focus on action and delivering tangible outcomes that better enable our personnel to respond effectively to rapidly evolving threats. It establishes the vision, mission, goals, and objectives for sharing and safeguarding information as well as managing the associated risks.
The Strategy not only paves the way for a more detailed effort to achieve the goals and realize the vision, but uses indicators and measures to report mission outcomes and impact as well. The end state of this Strategy is the establishment of the DHS Information Sharing Environment which will enable a comprehensive and streamlined ability to share and safeguard critical information across the Homeland Security Enterprise.
Ad blocker interference detected!
Wikia is a free-to-use site that makes money from advertising. We have a modified experience for viewers using ad blockers

Wikia is not accessible if you've made further modifications. Remove the custom ad blocker rule(s) and the page will load as expected.