Citation
Edit
Department of Homeland Security, Office of Inspector General, DHS Can Take Actions to Address Its Additional Cybersecurity Responsibilities (OIG-13-95) (June 5, 2013) (full-text).
Overview
Edit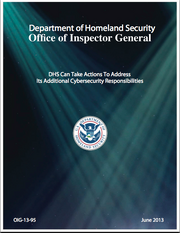 The National Protection and Programs Directorate (NPPD) was audited to determine whether the Office of Cybersecurity and Communications had effectively implemented its additional cybersecurity responsibilities to improve the security posture of the federal government. Although actions have been taken, NPPD can make further improvements to address its additional cybersecurity responsibilities.
Ad blocker interference detected!
Wikia is a free-to-use site that makes money from advertising. We have a modified experience for viewers using ad blockers

Wikia is not accessible if you've made further modifications. Remove the custom ad blocker rule(s) and the page will load as expected.