Citation
Edit
Department of Homeland Security, Office of Inspector General, DHS Can Strengthen Its Cyber Mission Coordination Efforts (Report No. OIG-15-140) (Sept. 4, 2015) (full-text).
Overview
Edit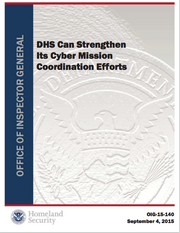 The OIG audited the DHS components' coordination in performing their cyber missions. It sought to determine whether their cyber roles and responsibilities have been well delineated and a process is in place for department-wide information sharing and coordinated response to cyber incidents and criminal investigations. It also evaluated the components' compliance with applicable DHS information security requirements.
It recommended that DHS develop both a department-wide cyber strategy and a security training program. DHS components must also address the information security deficiencies the OIG identified.