Citation
Edit
United States Army, Cyberspace Operations Concept Capability Plan 2016-2028 (TRADOC Pamphlet 525-7-8) (Feb. 22, 2010) (full-text).
Overview
Edit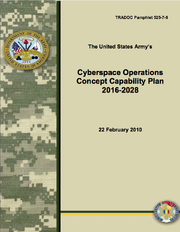 This pamphlet assesses the future operational environment and highlights the importance of all aspects of information on the future battlefield. Army forces operate in and among human populations, facing hybrid threats that are innovative, networked, and technologically-savvy. These threats capitalize on emerging technologies to establish and maintain a cultural and social advantage; leveraging these new capabilities for command and control, recruiting, coordinating logistics, raising funds, and propagandizing their message.
It takes a comprehensive look at how the Army's future force in 2016-2028 will leverage cyberspace and CyberOps. It includes a conceptual framework for integrating CyberOps into FSO, thereby providing the basis for follow-on doctrine development efforts. This conceptual framework outlines how commanders integrate CyberOps to gain advantage, protect that advantage, and place adversaries at a disadvantage. This pamphlet also establishes a common lexicon for Army CyberOps, and describes the relationship between cyberspace, the other four domains (air, land, maritime, and space), and the EMS. Lastly, it explains how converging technologies will increasingly affect full spectrum operations (FSO) and influence capability development, thereby enabling the Army to influence the design, development, acquisition, and employment of fully integrated cyber capabilities.
The assessment indicates that the Army's current vocabulary, including terms such as computer network operations (CNO), electronic warfare (EW), and information operations (IO) will become increasingly inadequate. To address these challenges, there are three interrelated dimensions of FSO, each with its own set of causal logic, and requiring focused development of solutions:
The first dimension is the psychological contest of wills against implacable foes, warring factions, criminal groups, and potential adversaries.
The second dimension is strategic engagement, which involves keeping friends at home, gaining allies abroad, and generating support or empathy for the mission.
The third dimension is the cyber-electromagnetic contest, which involves gaining, maintaining, and exploiting a technological advantage.
The first and second dimensions focus on how commanders and staffs orchestrate and leverage information power to achieve their missions. The third dimension focuses on gaining and maintaining an advantage in the converging mediums of cyberspace and the electromagnetic spectrum (EMS).
Ad blocker interference detected!
Wikia is a free-to-use site that makes money from advertising. We have a modified experience for viewers using ad blockers

Wikia is not accessible if you've made further modifications. Remove the custom ad blocker rule(s) and the page will load as expected.