Citation
Edit
National Association of Regulatory Utility Commissioners (NARUC), Cybersecurity for State Regulators (June 2012) (full-text).
Overview
Edit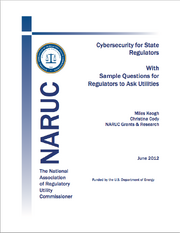 This primer that explains conceptual cybersecurity basics and points to additional resources that can help regulators develop internal cybersecurity expertise, ask questions of their utilities, engage in partnerships with the public and private sector to develop and implement cost-effective cybersecurity, and begin to explore the integrity of their internal cybersecurity practices.
See also
Edit
Ad blocker interference detected!
Wikia is a free-to-use site that makes money from advertising. We have a modified experience for viewers using ad blockers

Wikia is not accessible if you've made further modifications. Remove the custom ad blocker rule(s) and the page will load as expected.