Citation
Edit
National Science Foundation, Cyberinfrastructure for 21st Century Science and Engineering: Advanced Computing Infrastructure Vision and Strategic Plan (Feb. 2012) (full-text).
Overview
Edit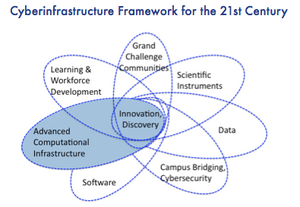 The ACI Strategic Plan seeks to position and support the entire spectrum of NSF-funded communities at the cutting edge of advanced computing technologies, hardware, and software. It also aims to promote a more complementary, comprehensive, and balanced portfolio of advanced computing infrastructure and programs for research and education to support multidisciplinary computational and data-enabled science and engineering that in turn support the entire scientific, engineering, and education community.
Ad blocker interference detected!
Wikia is a free-to-use site that makes money from advertising. We have a modified experience for viewers using ad blockers

Wikia is not accessible if you've made further modifications. Remove the custom ad blocker rule(s) and the page will load as expected.