Citation
Edit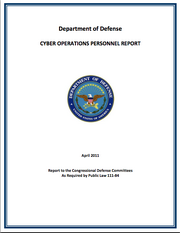 U.S. Department of Defense, Cyber Operations Personnel Report (Apr. 2011) (full-text).
Overview
Edit
This report is focused on FY09 Department of Defense Cyber Operations personnel, with duties and responsibilities as defined in Section 934 of the Fiscal Year (FY) 2010 National Defense Authorization Act (NDAA).
Appendix A: Cyber Operations-related Military Occupations
Appendix B: Commercial Certifications Supporting the DoD Information Assurance Workforce Improvement Program
Appendix C: Military Services Training and Development
Appendix D: Geographic Location of National Centers of Academic Excellence in Information Assurance
Ad blocker interference detected!
Wikia is a free-to-use site that makes money from advertising. We have a modified experience for viewers using ad blockers

Wikia is not accessible if you've made further modifications. Remove the custom ad blocker rule(s) and the page will load as expected.