Overview
Edit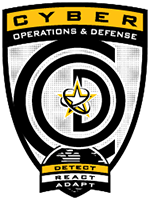 Cyber Operations & Defense (CO&D) enables information security and compliance across the PEO C3T, its program offices and tactical systems. By implementing policies, standards and procedures, Cyber Operations & Defense will ensure a secure information sharing environment for the PEO's daily operations and the U.S. Army's tactical network.
Three subsections, Cyber Strategy and Operations, Information Assurance, and Chief Information Officer/Military Technical (MilTech) Solutions, collaborate to address the immediate and future information technology needs and requirements of the PEO, U.S. Army and Department of Defense, while empowering soldiers with the tools to conduct robust cyber defense across the tactical network.
Ad blocker interference detected!
Wikia is a free-to-use site that makes money from advertising. We have a modified experience for viewers using ad blockers

Wikia is not accessible if you've made further modifications. Remove the custom ad blocker rule(s) and the page will load as expected.