Definition
Edit
CyberScope is
Overview
Edit
Launched by the federal Office of Management and Budget on October 19, 2009, CyberScope is a security reporting tool. OMB mandated that agencies use CyberScope for submitting their information security data to OMB. CyberScope has the capability to receive data feeds on a recurring basis to assess the security posture of a federal agency's information infrastructure. According to OMB, this tool allows agencies to report security data on a more frequent basis.
Beginning in 2011, agencies were required to report data on a monthly basis, rather than the previous quarterly basis.
To gain access to CyberScope, users must authenticate with their Homeland Security Presidential Directive 12 compliant credential that contains a digital certificate and personal identification number through OMB's Max Portal. Authenticated users are then directed to CyberScope to input or review FISMA-related data. Figure 1 shows a high-level view of CyberScope's system and encryption architecture.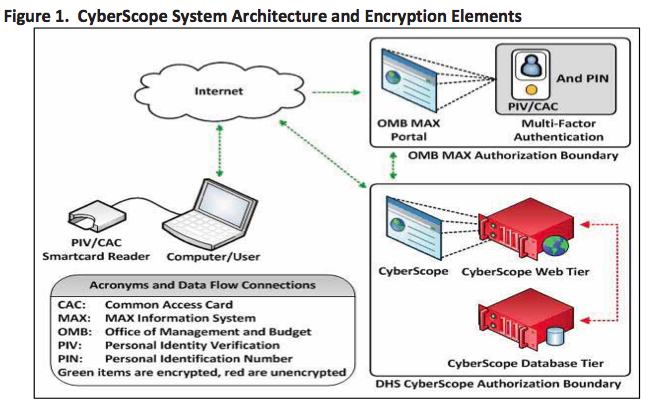 References
Edit
Ad blocker interference detected!
Wikia is a free-to-use site that makes money from advertising. We have a modified experience for viewers using ad blockers

Wikia is not accessible if you've made further modifications. Remove the custom ad blocker rule(s) and the page will load as expected.