Citation
Edit
Department of Homeland Security & Department of Justice, Critical Infrastructure and Key Resources (CIKR) Protection Capabilities for Fusion Centers (An Appendix to the Baseline Capabilities for State and Major Urban Area Fusion Centers) (Dec. 2008) (full-text).
Overview
Edit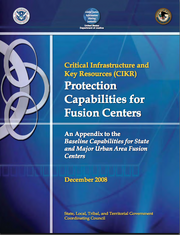 This document identifies the capabilities necessary for state and major urban area fusion centers to establish a critical infrastructure and key resources (CIKR) protection analytic capability that supports infrastructure security activities at the state and local levels. This document is an appendix to the U.S. Department of Justice's Global Justice Information Sharing Initiative's (Global) Baseline Capabilities for State and Major Urban Area Fusion Centers, which defined the capabilities and standards necessary for a fusion center to be considered capable of performing basic functions (e.g., the gathering, processing, analyzing, and disseminating of terrorism, homeland security, and law enforcement information).
This document provides guidance for those fusion centers that have chosen to support CIP activities; it identifies the additional capabilities fusion centers should achieve in order to effectively integrate CIKR activities into their analysis and information/intelligence sharing processes and identifies how the center should support risk-reduction efforts taken by federal, state, local, and private sector partners.
This document also provides the federal, state, local, and private sector officials responsible for protecting CIKR with an overview of the value in working with their local fusion center and how they can better integrate their CIP-related activities with the efforts of the fusion center.
Ad blocker interference detected!
Wikia is a free-to-use site that makes money from advertising. We have a modified experience for viewers using ad blockers

Wikia is not accessible if you've made further modifications. Remove the custom ad blocker rule(s) and the page will load as expected.