Overview
Edit
The Continuous Diagnostics and Mitigation (CDM) program is a dynamic approach to fortifying the cybersecurity of computer networks and systems. Through the CDM program, DHS works with partners across the entire Federal Civilian Executive Branch (FCEB) government to deploy and maintain an array of sensors for hardware asset management, software asset management and whitelisting, vulnerability management, compliance setting management, and feed data about an agency's cybersecurity flaws, and present those risks in an automated and continuously-updated dashboard. CDM, which will also be available for State and local entities as well as the Defense Industrial Base Sector, provides our stakeholders with the tools they need protect their networks and enhances their ability to see and counteract day-to-day cyber threats.
The program provides tested continuous monitoring, diagnosis, and mitigation activities designed to strengthen the security posture of the federal .gov networks. Under this program, the Department of Homeland Security (DHS) will centrally oversee the procurement, operations, and maintenance of diagnostic sensors (tools) and dashboards deployed to each agency. Using input from the sensors and agency-level dashboards, officials at each agency will be able to quickly identify which problems to fix first, and empower technical managers to prioritize and mitigate risks.
CDM offers commercial off-the-shelf (COTS) tools, with robust terms for technical modernization as threats change. First, agency-installed sensors perform an automated search for known cyber flaws. Results feed into a local dashboard that produces customized reports, alerting network managers to their worst and most critical cyber risks based on standardized and weighted risk scores. Prioritized alerts enable agencies to efficiently allocate resources based on the severity of the risk. Progress reports track results, which can be used to compare security posture among department/agency networks. Summary information can feed into an enterprise-level dashboard to inform and situational awareness into cybersecurity risk posture across the federal government.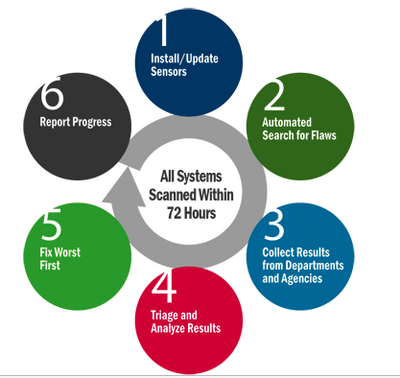 The rollout of CDM is organized into three phases designed to allow agencies to implement CDM in a consistent manner that demonstrates measureable cybersecurity results and leverages strategic sourcing to achieve cost savings.
Phase One of CDM focuses on endpoint integrity and device management. Specifically, this phase encompasses the management of hardware and software assets, configuration management, and vulnerability management. These capabilities form an essential foundation on which the rest of CDM will build.
Phase Two will focus on monitoring attributes of the authorized users operating in an agency's computing environment. This includes the individual's security clearance or suitability, security related training, and any privileged access they may possess.
Phase Three will focus on boundary protection and response to cyber incidents and vulnerabilities. These capabilities will include audit and event detection/response, status of encryption, remote access, and access control of the environment.
Ad blocker interference detected!
Wikia is a free-to-use site that makes money from advertising. We have a modified experience for viewers using ad blockers

Wikia is not accessible if you've made further modifications. Remove the custom ad blocker rule(s) and the page will load as expected.